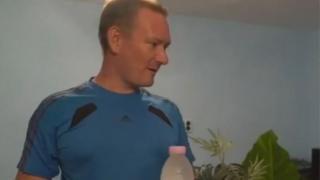 A British convicted paedophile who fled the UK has reportedly been charged with sexually mistreating children in Bulgaria, following a BBC investigation.
Daniel Erickson-Hull was experienced living as a self-styled missionary evangelist in a inadequate Roma issue in the town of Sliven, by BBC Radio 4's File on 4.
He was charged on Friday with mistreating four sons under the age of 16, regional prosecutors told AFP.
He was jailed for 15 months in 2017 on child pornography offences.
Erickson-Hull, 44, from Plaistow, in east London, was sentenced to 15 months in prison for having hundreds of indecent idols of children.