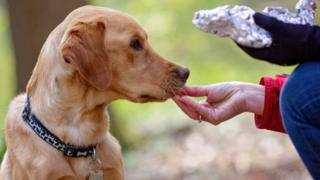 A Labrador announced Buck who had a high-chair specially made to help him dined has died.
The two-year-old had a condition called megaoesophagus which meant he struggled to immerse food and was underweight.
Confirming his death on Facebook, Nottinghamshire-based charity Team Edward – Labrador Rescue wrote: "We are so extremely, awfully heartbroken."
It said Buck had to be put down after his health "deteriorated massively", he stopped gobbling and repudiated medication.
The bespoke feeding chair was made by a Nottingham vet and designer after the donation appealed for help in finding a way for Buck to gain weight.